Generating Business Ideas
If you're thinking of starting a business then I can thoroughly recommend the following books to help you generate ideas for a business.
BUT…
I'm sure you don't want to be a statistic – one of those business owners who have to close the doors on their business in it's first years. So once you've got some ideas – do make sure to check them out and validate them. Make sure there really is a market for your product/services. If you're not sure what I'm talking about my FR*EE report on why you should evaluate your business ideas will help – just look over to the right hand column  and complete the sign-up box. If you're already convinced of the importance of evaluating your idea then hop over to my page on Evaluating Business Ideas.
So here are my recommendations when you want to come up with business ideas:
Susan Baroncini Moe – Designing the Business of Your Dreams
I bought this excellent package by Susan out of curiosity – at the time I was writing my own workbook on generating business ideas but when I got my hands on Susan's book I was so impressed (and I don't impress easily !) I decided not to reinvent the wheel as it were and so I send people off to buy Susan's book (and yes I am now an affiliate). I've even used parts of it when talking about creativity with my MBA students.Designing the Business of Your Dreams Susan Baroncini Moe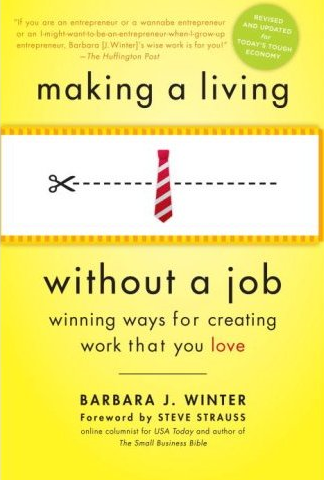 A book that's well worth reading is Joyfully Jobless by Barbara Winter. This is geared towards people who want to quit their job and start a business of their own. It's easy to read and packed full of great information. Between them Susan and Barbara pretty much provide you with all that you would have got from the home study course I was writing.
You may like to check out the programs offered by Valerie Young. I bought one of  her programs – there's a lot storytelling and less meat than in Susan or Barbara's material but there are enormously helpful interviews on CDs.
You may like to work with me for generating business ideas, on the other hand it might appeal to you to work with  Susan Baroncini Moe or you may like to work with Valerie Young. Whatever, whoever suits YOU best.