Gillian's Bookshelf
There are countless books on business and mindset issues that I'd love to recommend to you. These are all books that I've bought as I knew they would help me in my business and I'm delighted to suggest them to you. As time goes by I'll be writing a detailed review on each one on my blog.
The Zen of Social Media Marketing by Shama Hyder Kabani is a must-read and not just for the newbie to social media. It is crammed full of useful information and tips. The style makes it SO easy to read but also to remember a lot of what you've read. I'm no newbie to social media, far from it, but I've read this book three times already and I recommend to all my clients and to people who attend the talks that I do on the power of social media for business.
The 4-Hour Workweek is the book that started my on my travels along the road to an on-line busines that enabled me to be location independent. For family reasons this was very important to me. This is a great book not only to plan your escape from cubicledom and the world of regular work but it is a bible on automating for anyone who has already escaped and wants to reduce the time they spend working IN their business.
Michael doesn't know this but it's all his fault !  If someone hadn't suggested reading Book Youself Solid I wouldn't have searched for him on the internet and I wouldn't have discovered that there was a whole wonderful world out there for people like me. I could use my business skills to help others, earn a reasonable living and be location independent. Yay !  Then I read this book and whilst there are many takeaways from it the biggest one for me is the cord at the top of the red carpet –  it's so important to set boundaries. This book is another great read and stacked full of useful information. (you're no doubt starting to understand what makes a great book for me ?!!). Oh and Michael is also guilty of getting me onto Facebook – until he went onto Facebook I thought it was a social platform for young people not for us business folks !!
Beyond Book Yourself Solid is, no surprises, the sequel to the former book. Also a great read. Also stacked full of useful information.
The Think Big Revolution – yes, another one by Michael – yes, you've guessed I'm a big fan. No, I know he's but seriously that has nothing to do with me raving about his books. Go read them for yourself and dare to tell me that you don't agree with me !!
Anything by Seth is good, and thought provoking and useful for your marketing endeavours. His blog is also worth subscribing to.
The title The Toilet Paper Entrepreneur is proably not a compelling reason for this book to feature on the list of must reads for MBA students but it has got  some worthwhile information for anyone wanting to start a business. I've read it three times now.
Jeff Jarvis What would Google do ? – thought provoking. Check it out for yourself.
If you're a newbie and want to use the internet to sell your knowledge and make mo*ney then this is a must read. I wasn't a newbie when I read it so I didn't find it of much value but for a newbie it would be very helpful.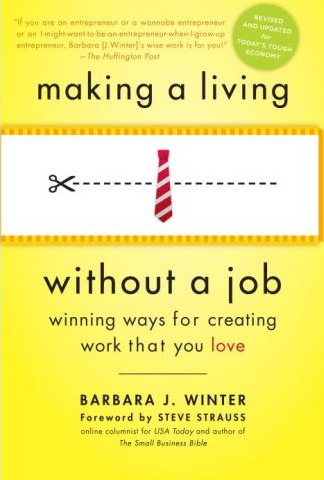 Joyfully Jobless is Barbara J. Winter's excellent guide to successful self-employment is based on her thirty years of business expertise and that of other successful entrepreneurs. The book offers a practical, proven way to launch your own profitable business venture.
Please note that if you click on any of these images it takes you to Amazon so that you can see inside the book and perhaps buy. If you do buy then I obtain a minuscule percentage as these are all affiliate links.