Are you wondering why suddenly everyone is asking you to complete on-line surveys?
Are YOU struggling to find out WHAT your clients are truly seeking?
Do you want to attract the RIGHT customers for you and your business ?
Do you want to offer your clients the solution that ends their problem?
Are you wondering what market research is all about ?
Then this book is for YOU !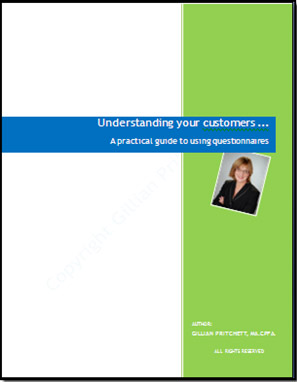 Dear Business Owner,


During the past few months I have been asked by various people with on-line businesses to answer a question or
to complete an on-line survey. In restaurants and spas I am being asked to answer a quick survey. Some of these are well thought through whilst others are ....
Reading these questionnaires made me realise there is a big gap in the market that is stopping business owners from truly understanding their clients. An enormous amount of literature is dedicated to describing the various ways to satisfy your customers' but very few books or programmes help you identify what those needs are.
I knew that I could really help business owners like YOU by producing a series of guides to help YOU to better identify and understand your market and your customers so that you can give your customers and target customers what they really want and of course make more $$$. This first guide is all about doing one-question polls and surveys to better understand your customers.
Whether you are a solo service professional, a small or medium-sized business, you may be clear on who your target market is, but are you clear on what they are buying and why? Are you sure you are providing the solution to their problems and in the way that they want?
Perhaps your products, programs, and/or services are not selling as well as you thought they would. Maybe there is a mismatch between what your market wants and what you're providing them with. Perhaps you are providing the solutions based on what YOU think the problems are rather than what your target market knows to be true.
The only real way to find out is by market research. Market research needs to be done on a continual basis – never stop asking your target market what they want - so that you can constantly provide the solutions to their problems.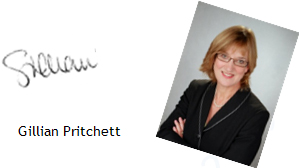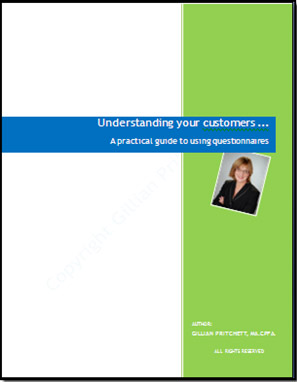 This book will teach you:
The what, why and how of market research
Why you should research your clients and potential clients
What you need to know about your target clients
How to find out about your target clients and what they want
A step by step approach to doing one question polls
The key steps in planning a successful questionnaire-based survey
The essential criteria for evaluating on-line survey tools
The golden rules of an awesome questionnaire
The types of questions that can be used in surveys
The question formulating process
The secrets to writing really good questions
How to structure your questionnaire
Options for distributing your survey
Key ways to advertise your survey for free
Techniques for motivating people to respond
How to collate and analyse the responses
The book contains over 120 information rich pages and is organised into 4 sections:
Section 1: The What, Why and How of market research
Section 2: The One-Question Poll
Section 3: The Questionnaire-based Survey
Section 4: Analysing the responses
Each section contains practical information, a step by step guide and numerous examples. Learning best practice and seeing some of the worst blunders will ensure that you write great questions, produce some awesome questionnaires and get valuable feedback from your clients and prospective clients.
All this for just

$47

OR
You can get the package which includes the book and 1 hour of my time to assist you with your survey – this could be to critique your questions, help you get set up on Survey Monkey – wherever you need some advice and help
All this for just
$167

Gillian prepared a detailed market study of the digital signage sector for me. It was based on hours of research of a very complex and fragmented market. Her work enabled me to identify where there were opportunities in a busy market place and as a consequence I was able to identify the proper positioning and strategy required to reach our goals. Gillian loves research and analysis and since she is good at it too I know that her help and guidance would benefit many business owners and people evaluating a market for business opportunities.
Alex Simionescu
Managing partner, producer
Float4 Interactive
www.float4.com
But why trust me to help you really understand your customers ?
I have over 15 years experience in helping corporates, not for profits and small business owners research their market and gather information on their customers

I have extensive experience in devising questionnaires, doing on-line surveys as well as handling the analysis and interpretation of the results.

I teach sectorial analysis on the MBA entrepreneurship program at one of Canada's top business schools
Yes! I Want to Purchase Understanding your customers Today!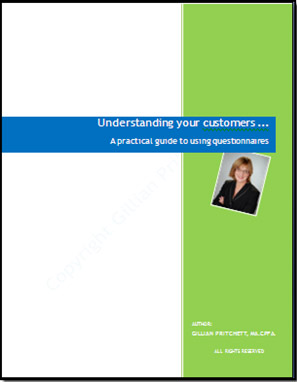 just

$47

Yes! I Want to Purchase

Understanding your customers Package Today!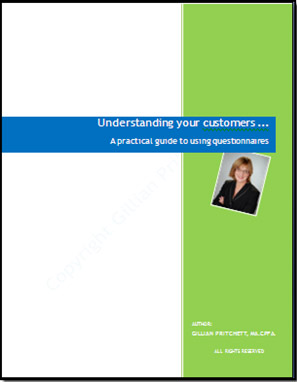 I understand that I will receive:
A 120 page e-book on How to use questionnaires to understand your Customers.
1 hour of assistance with my survey
All this for just

$167