I first read The Zen of Social Media Marketing by Shama Hyder Kabani in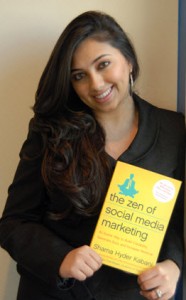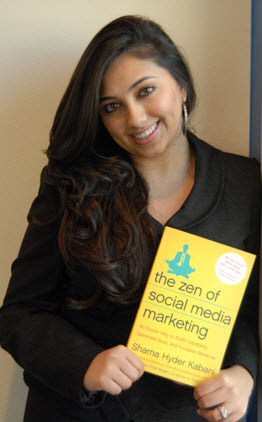 bits and pieces during the early Summer but then this week sat down in the sun on my balcony and read it again – cover to cover.
With a Foreword by Chris Brogan, the book contains chapters on:
Online marketing basics
Websites, Blogs and SEO
Social media marketing : what you need to know before you start
Facebook
Twitter
LinkedIn
Video: the Next Frontier
Creating a social media policy for your organisation
Tools for attracting even more business (this includes social bookmarking and how to measure the results of your efforts)
These are followed by:
A section on some of the questions asked by the readers of Shama's blog
A section with case studies from companies in a variety of sectors.
The Zen of Social Media Marketing is somewhat unusual in that Shama has posted all of it on her website so that readers can access updated chapters.
I've been tracking Shama for a couple of years now but any social media newbie buying this book will probably have no idea who she is. However she rapidly demonstrates her impressive knowledge and expertise and reinforces her credibility by having Steve West write the section on SEO and handing over the chapter on Video: The Next Frontier to Dave Kaminski who she acknowledges as her number one source for online video information.
Quotes from social media practitioners are sprinkled throughout the book. Exceptionally I found them all to be highly valuable. I read many books on a variety of topics and typically the quotes just reinforce what the author is saying whereas Shama used quotes that really added value.
It's a very easy, relaxing book to read – it's just as if Shama is sitting there with you telling you all about social media. The pages just turn themselves. But make no mistake – this book contains no fluff and is absolutely crammed full of useful information. I would definitely recommend having a pen to hand to mark the things to action. Whilst I'm by no means a newbie to using social media for business – I teach it as part of a course on Strategic Communications at Webster University in Leiden and give talks on it back home in Montreal – I still found lots of things to put on my To do list. So whilst The Zen of Social Media Marketing paints a broad canvas and in a very accessible style making it a must read for the social media newbie, it's still worth a read for the more seasoned social media folk.
The Zen of Social Media Marketing is available from Amazon (my affiliate link) and no doubt a good bookstore not far from where you live.
Having written this review I then read some of the reviews on Shama's website and at Amazon – interestingly everyone has commented on how easy and gripping a read it is packed full of useful information and no fluff, just like Shama sitting there talking to you. Think Shama has clearly demonstrated that not only is she extremely knowledgeable about social media but she is able to write about it and share that knowledge in an accessible way.
For the record, Shama is the president of The Marketing Zen Group (previously known as Click To Client), a full-service web marketing agency serving clients around the world. She was tagged by Business Week as one of North America's Top 25 Under 25 entrepreneurs. She holds a master's degree in organizational communication from the University of Texas at Austin.